Governor Bello Receives Chief of Defence Staff, Reiterates Partnership with Security Agencies
…As CDS Scores Kogi High on Security, Says Nigeria Military Will Set Stage for Peaceful Guber Polls
Kogi State Governor, Alhaji Yahaya Bello, on Thursday, received the Chief of Defence Staff, General Christopher Musa at the State government house in Lokoja.
.
.
The CDS, who is on an operational visit to Kogi State was ably received by the State Deputy Governor, Chief Dr Edward Onoja, on behalf of Governor Bello.
Welcoming his guest accompanied by other top military officers, Governor Bello speaking through his Deputy, commended President Bola Tinubu for his efforts towards combating insecurity in the country. He highlighted the strategic relevance of Kogi State to the country, noting sustained efforts to tackle crime in whatever guise so far.
.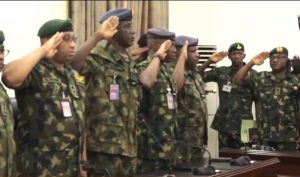 Chief Edward Onoja and Gen. Christopher Musa
On the forthcoming governorship election in the State, Governor Bello disclosed that his administration has since laid the foundation of a level playing ground for all candidates, noting that his administration will continue to partner with the military and sister security agencies to ensure the safety of lives of livelihood, before, during, and after the polls.
Earlier, the CDS reiterated the resolve of the Nigerian Army to commit to the rules of engagement and professionalism in its peace mission across the country.
.

CDS, Gen. Christopher Musa
He stated that he was in Kogi State as part of his national tour across selected states of the country ahead of the November 11 governorship elections. He described Kogi State as a microcosm of Nigeria due to its unique location and commended Governor Bello for his critical gains in the area of tackling insecurity.
The CDS however reiterated the readiness of the military to partner with all relevant stakeholders towards ensuring a free, fair, and credible election in the State. He commiserated with the Government and people of Kogi State on the passing of the Ohinoyi of Ebiraland, Dr Ado Ibrahim.
In attendance were the Secretary to the State Government, Dr Mrs Folashade Arike Ayoade, Deputy Chief of Staff, Hon Sunday Faleke, Head of Service, Mrs Hannah Odiyo, State Security Adviser, Comm Jerry Omodara (Rtd), Commissioner for Environment, Hon Omofaiye Victor, and other government functionaries.
In company of the CDS was the General Officer, Commanding 2nd Division, NA, Major General B.A Alabi, Flag Officer Commanding Central Naval Command, Rear Admiral Ayuba Chugali, the Commander, 12th Brigade, NA, Brig Gen H.I Dasuki, the Commander, NNS Lugard, Commodore Victor Ajulu, and other top military officers.
.